Appellate
We work closely with our clients to manage risk in complex litigation and at trial.  Sometimes, the result at trial is appealed.  When that happens, we stand ready to represent you in state and federal appeals courts.  Our appellate attorneys have written and argued more than 750 appeals in state and federal court systems.  Several of our appellate lawyers have been selected by their peers as Super Lawyers® as published by Thomson Reuters.
At the trial court level, our appellate lawyers team with our litigators to prepare and argue motions and to preserve our clients' rights on appeal.  On appeal, they strive to preserve clients' hard-fought trial victories at the trial court level or to reverse negative outcomes.  They also provide these same motion practice and appellate services to other law firms that need our special expertise.  And they advocate for civic, business and trade groups in writing important friend-of-the-court briefs.  These attorneys support all areas of our firm's practice groups.
Our appellate lawyers have also served as officers of the Minnesota State Bar Association Appellate Practice Section and as editors of the MSBA online resource site for appellate practitioners.  Because of their experience, they also often lecture to other lawyers and law students regarding appellate practice and procedures.
If you would like to discuss appellate work further, please contact our Appellate practice group chair, Bill Hart.
Our Appellate practice is ranked in U.S. News – Best Lawyers rankings of the nation's "Best Law Firms."
Since 2013, Meagher + Geer has achieved high rankings in the category Litigation: Appellate from Chambers USA.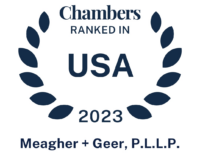 Back to Services
News & Events
Nov

2,

2023

Meagher + Geer ranked in 2024 Best Law Firms® list

More...

Aug

17,

2023

Meagher + Geer congratulates its 26 attorneys recognized by Best Lawyers®

More...

Jul

17,

2023

Meagher + Geer congratulates its 21 attorneys named to the 2023 Minnesota Super Lawyers® list

More...
See All