Meagher + Geer Partner Stacy Broman receives 2020 Federation of Defense & Corporate Counsel Diversity Award
Date : Jul 31, 2020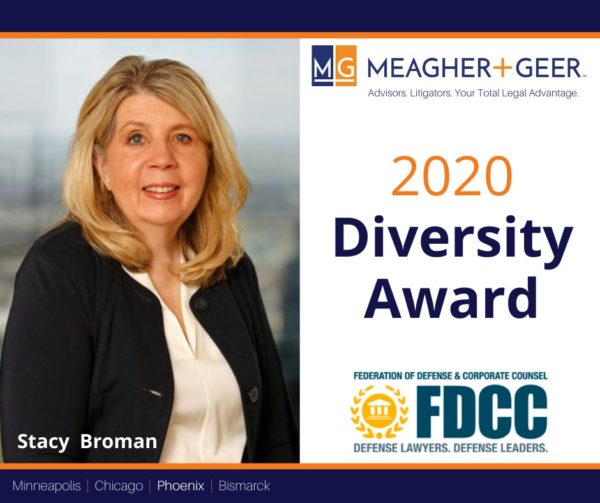 Meagher + Geer Partner Stacy Broman has been awarded the 2020 Diversity Award from the Federation of Defense & Corporate Counsel (FDCC). The award celebrates efforts to foster diversity and inclusion in the legal profession and seeks to ensure equal opportunity for all persons in the membership, leadership, engagement and activities of the FDCC. Stacy earned this award through her work on the Barb Currie Scholarship, the Diversity Committee, the Admissions and the Membership Committees. She is known as a tireless supporter of diversity efforts both within and outside the legal community.
Stacy was awarded this honor during the virtual Annual Meeting on July 31, 2020.
The Federation of Defense & Corporate Counsel (FDCC) exists to be the inspired community of vetted defense counsel, exceptional leaders and even better people. Its members have and continue to achieve professional and personal distinction across the United States and around the world.
Back to News