Kurt Zitzer quoted in Law360 article "2nd Circ. Coverage Chain Ruling Marks Risk-Transfer Woes"
Date : May 24, 2023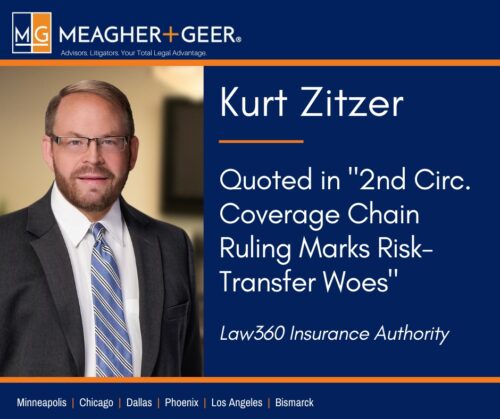 In an article published by Law360 on May 23, 2023 Kurt Zitzer commented on a recent Second Circuit decision that a construction subcontractor's umbrella policy is excess over the general contractor's commercial general liability policy for an underlying personal injury lawsuit.
The decision reinforced the pitfalls of some risk-transfer agreements. In the article, Zitzer notes that wrap-up agreements could provide additional protection. Wrap-up agreements transfer risk by parties collectively sharing costs, pooling risks under shared coverage and excluding insured-versus-insured, and reducing incentives for subcontractors and contractors to dispute coverage obligations.
"Wrap-up agreements are an increasingly popular method for mitigating risks in part because they can prevent disputes like the one before the Second Circuit that arise from traditional risk-transfer models' reliance on specific agreements structuring separate policies," said Zitzer, "These lawsuits can involve 25 parties, where they're all pointing the finger at each other, claiming indemnity against each other, and it's just and absolute cluster. So wrap policies are intended to alleviate that concern."
"That's another way of transferring the risk, is to have everybody buy into the fact that we're all going to get insured under one product. We're not going to point fingers unnecessarily at each other, and we're all going to assume the cost of insuring the risk," Zitzer added.
For the full article, subscribers to Law360's insurance Authority may click here.
Back to Insurance – Bad Faith's News, Events & Articles